Contech ScareCrow Review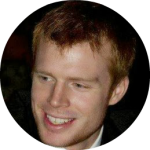 All our reviews are written by readers of The Scaredy Cat. The Contech ScareCrow review was written by Patrick Henley. Patrick is a keen gardener and was having a real issue with cats ruining his plants. Being a cat owner himself he was determined to fine a repellent that didn't harm any animals….
The Contech ScareCrow is a motion activated animal control device that will spray a light sprinkle of water when activated. It works during the day and night and can cover a 1000ft squared area. The device not only works for cats, but also dogs, foxes, rabbits, squirrels and herons. One of the primary benefits of using theContech ScareCrow is that it's a humane way to keep pets and wildlife off your garden. It doesn't require any complicated traps or hazardous chemicals – it will simply scare the animal away using a surprise sprinkle of water.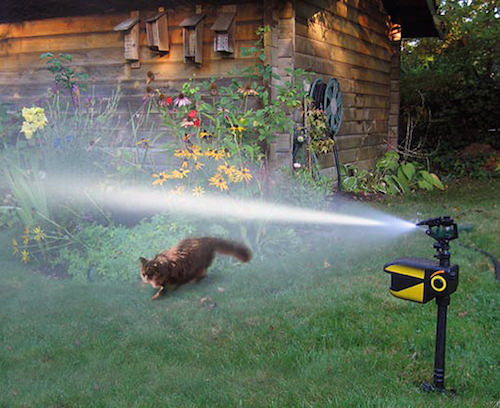 My Problem
My garden has always been prone to "attack." My street is quite simply a life-sized cat litter and virtually everyone living there has a feline roaming around (me included); whether its day or night, there's always some threat to be aware of. Gardening is one of my only serious hobbies and I spend a lot of time ensuring it looks the part. That's why it bothers me greatly when a cat comes along and ruins months' worth of hard work in just a few seconds.
Being a cat owner myself, I have never been a fan of chemical, abrasive or harmful cat deterrents. I'd much rather have messy gardens than harm a poor animal. In addition, due to the large amount of cats in my area, there's an unspoken rule that none of us will use such repellents. We had all tried many solutions, but it was my next door neighbour that started the Contect ScareCrow trend. Now almost every garden on our street is home to one of these devices.
Pros
The Contech ScareCrow is perfect in places where fences are prohibited or in open gardens with flower patches are in the centre; which was perfect for me because I have both. The device will detect an animal's movement, and then release a short, but startling burst of water. The reason I like this device so much is due to the power of the blast. Unlike many other motion activated cat repellents, it's light and almost certainly won't cause any harm to the animal. I've also noticed that the noise of the sprinkler will also deter nearby animals and prevent them from even stepping onto my garden.
Cons
It's hard to fault the Contech ScareCrow purely because it's completely solved my problem; however, I will mention a few points that may concern others. While the construction of the device is strong and hasn't caused any problems, it feels somewhat flimsy due to its light weight, which makes me question its long term effectiveness. During the evenings it's not uncommon for me to look out onto my garden and find a large group of rabbits. This doesn't bother me as I enjoy their company; however, if you are purchasing this product purely to get rid of multiple numbers of rabbits, note that it may not work as well as you expect.
Contech Scarecrow Overall Rating
Price - 8/10

Effectiveness - 9/10

Quality - 8/10

Ease of Installation - 8/10
Summary
All-in-all the Contech ScareCrow is great for what it is and has saved me a great deal of time replacing plants. It's allowed me to focus on some more difficult gardening projects without interruption, which is all anybody could want.